Tapping into Rwanda's waste-to-wealth economy, Ysolde Shimwe and Kevine Kagirimpundu have come a long way in their eco-friendly shoes. They repurpose used tyres to make soles and have survived the pandemic with their sustainable offerings opening yet another new store this year.
WORDS AND PHOTOS BY RIDHIMA SHUKLA
IN A CLATTERING FACTORY IN Gahanga, minutes from Kigali, the capital city of Rwanda, stands a black and grey block of concrete, distinct from its beige cohorts and the large swathes of yellow mud around it. The sound effects surrounding this unsuspecting installation include the cacophony of churning machines, the resolute tearing of sheets and the grinding of scissors in sync, and this is all accompanied by the strong smell of ethanol hanging in the air.
These are the sights and sounds that greet you as you enter the manufacturing center of Rwanda's home-grown, eco-friendly footwear brand Uzuri K&Y.
Over 40 people, in colorful masks, sit across from each other on tables as per the new norms of social distancing in the workplace.
Each table is a team of trained experts connected by a chain of processes needed to complete the production lines for Uzuri K&Y. The final result – comfortable, cruelty-free footwear – line the right end of the facility, stacked neatly on dark brown wooden shelves.
The two 29-year-old founders of Uzuri K&Y, Kevine Kagirimpundu and Ysolde Shimwe, are nearby, beaming with pride. Their personalities match the myriad colors around them.
Shimwe speaks about her eco-friendly ware: "We use repurposed rubber for the sole and biodegradable fabrics painted with natural dyes, and synthetic vegetable leather for other parts of the shoe as well as natural adhesives to put it all together – you can say we are part of the circular economy."
Sustainable green trends are undeniably fashionable and the young entrepreneur-duo clearly have a deeper emotional investment in their products.
As Shimwe adds: "We care for our people and our planet. We want to sell a Rwandan product with love."
The duo started Uzuri in 2012, and their vision fit right in with Rwanda's aim of becoming a waste emissions-free country by 2050.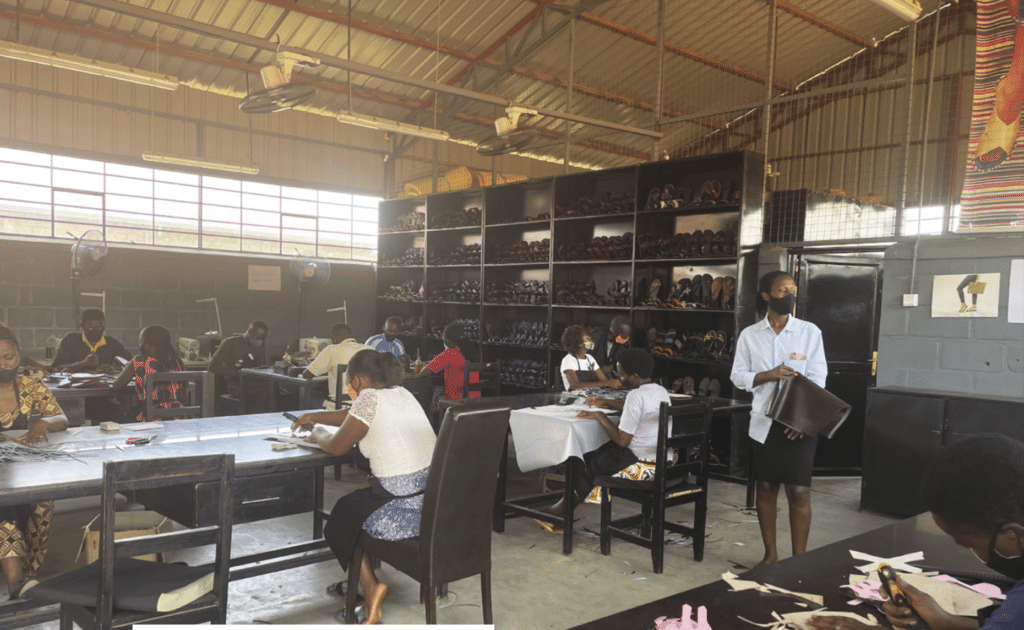 Kagirimpundu shares that as students, they would pass by landfill areas situated close to residential neighbourhoods and wonder how they could become a part of the solution to rid these sites of waste.
Currently, a large chunk of Rwanda's Greenhouse Gas emissions come from densely-populated nation's urban landfills and inspired by that same thought, Uzuri's footwear uses the repurposed rubber from otherwise polluting and non-biodegradable tyres.
The young entrepreneurs were still at university in 2012, studying creative design and
contemplating their future in the limited job market for designers in Rwanda, when they had the epiphany.
"We were in university and we used to wonder where we would find jobs after school. We had
a passion for design and fashion. We decided to create something by Rwandans for fashion-lovers everywhere," says Shimwe.
Ideas and ambition are often a great combination for entrepreneurial success. However, youth and a lack of experience often lead to more failures and lessons than instant success.
"It wasn't just shoes in the beginning, we wanted to make everything: bags, clothes and accessories. We knew very little about investment management and technology," adds Kagirimpundu.
Working with local tailors out of their homes and with just one sewing machine, the two young women started by manufacturing colorful bags and other accessories to sell on Facebook.
The open source social media platform not only allowed them to gain visibility but also gauge customer reaction.
"We learned to improve the quality and function of our products through customer feedback. Our little venture paid us in lessons."
In 2014, Uzuri received mentorship from a Swiss entrepreneurship program based in Rwanda that helped the brand streamline its purpose and guide the duo's approach to business and sales.
"They advised us to stick to one thing, one product! It was very difficult for us to choose because we were fond of them all," says Shimwe.
The amateur entrepreneurs made their choice and haven't looked back. With a range of trendy, functional footwear, Uzuri was rebranded under the waste-to- wealth model of business.
"The biggest challenge was finding skilled labor.
So without capital or experience in shoe design, we approached a local cobbler, Francios, who owned a street shop in the city center to work with us as our lead shoe-maker," says Kagirimpundu.
With this, the duo embarked on a journey to shift consumer behavior in a country not yet familiar with sustainable fashion and with a general mistrust of local products.
"In our culture, rubber sandals are often considered cheap quality footwear, unfashionable. We wanted to break away from that and substitute it with the idea of sustainability," offers Shimwe.
"We did not have money for a website. We used to deliver door-to-door on moto-taxis," says Kagirimpundu.
Delivering door-to-door was the easy part for customers often returned the shoes for alterations, asking for a better fit or a more comfortable style.
"Sometimes they would not buy them even after alterations. We did not make much money but we gained insight into the minds of our target audience," the two concur now.
The real-time feedback allowed the Uzuri founders and their shoemakers to better the design quality while engaging in a personalized brand-building exercise with their customers.
Small grants won at entrepreneurial competitions allowed the two founders to keep their business afloat. And, in 2015, after much trial and error, Uzuri graduated from a Facebook store to a real brick-and-mortar shop at Kigali's international airport.
"It is a restricted area, but we pitched our brand as one made by Rwandans with pride to the authorities and they allotted us a space of 15sqm."
After selling over 2,000 pairs of sandals at the airport store, the two opened their first shop in 2016, in one of the most developed commercial zones of the city, at Kigali Heights in Kimihurura.
For the next three years, Uzuri's footwear with ethnic African prints appealed to the expatriate and tourist community. Their customer-base kept growing but Rwandans were still weary of stepping out in the locally- made Uzuri sandals.
"We changed our marketing approach and brought back focus on our local audience by involving Rwandan models for all our advertising needs and we advertised in Kinyarwanda," say the two.
As Uzuri slowly got endorsed by Rwandans, its popularity kept pace with the expatriate community and the wealthy tourists looking to go back home with a piece of Rwanda.
"2019 was a great year for us. We were selling fast. We had to expand our store by breaking a wall and into the adjacent store, to fit in all the customers and the shoes," says Kagirimpundu.
To match the demand, the businesswomen scaled up manufacturing and opened another store in the city center for reaching out to their local clientele living far from the posh neighborhoods in the east of the city.
"But, then the pandemic hit and our 80% expatriate and tourist clientele came to a halt, people did not want to spend on shoes."
At a time when Rwanda's retail market consisted mainly of repurposed and imported fashion goods, Uzuri was attempting to shift consumer behavior with sustainable fashion.
The 2018 ban on the import of used clothing and footwear by the Rwandan government and the onset of the pandemic disrupting cross-border trade actually catalyzed Uzuri's sales.
"While we expected our sales to flat-line, Rwanda's fashion-lovers came to our rescue by capturing 80% of our pandemic sales."
As Rwanda's citizens receive their Covid-19 vaccinations and businesses gain momentum, the buying power of the residents is picking up steadily and the duo have launched another store this year.
However, the impact of the pandemic can be seen in the decisions of the young entrepreneurs. They have recently closed their airport store, as it no longer drives the same level of profits, what with travel down.
"Our other stores need our attention and we can look at re-opening the airport store when tourism goes back to normal," they say.
Starting out with a few shelves in a local shop to renting big stores in the best commercial zones in Kigali,
Kagirimpundu and Shimwe have come a long way.
"Design is all about problem-solving and we have applied our education to solve the problems in our business," says Kagirimpundu.
With the pandemic forcing people to work from home, the duo have also now launched a new line of home slippers.
They saw an opportunity and took the chance.
The company has sold over 44,000 pairs of footwear so far; last year, their revenue totaled $300,000.
A combination of local talent and innovation in footwear, Uzuri's model did not command the same market share for years, as it does today.
What next?
The two smile and agree: "We have invested every penny back into the business and our employees. We want to empower our community and those who work with us."
Over the course of eight years growing their business, the Uzuri founders have become proponents of the win-win philosophy of sustainable innovation and branding. The company is now looking to expand into Kenya, South Africa and Tanzania, to continue selling "from Rwanda with love".