By BellaNaija.com
Stakeholders across the fintech and financial services value chain unanimously took up the challenge to fortify the drive for enhanced financial inclusion in Nigeria at the 2019 Financial Inclusion Conference hosted by Enhancing Financial Innovation & Access (EFInA) on Monday, December 9, 2019.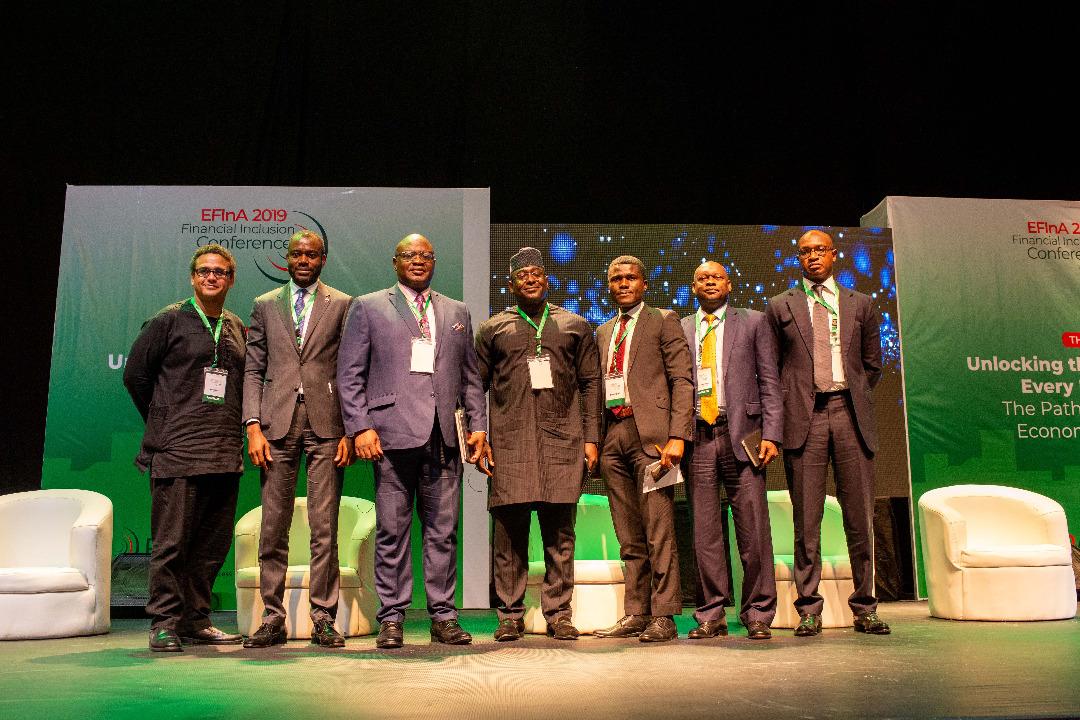 LR: Kola Masha, MD, Babban Gona; Abubakar Suleiman, MD Sterling Bank; Kyari Bukar, Co-Founder, Trans Sahara Investment Corporation; Dr. Tayo Aduloju, COO, NESG; Ernest Ihedigbo, Head Agricultural Value Chain, NIRSAL; Agada Apochi, MD, Unified Payments and Ladi Balogun, CEO, FCMB Group Chief Executive
The consensus at the gathering was that irrefutable progress has been made in the financial services sector, however, there remains much to be done to stimulate considerable reduction in financial exclusion. At the crux of the drive is greater inclusive growth with more initiatives and focus placed on obtaining the buy-in of women across the country, with keen interest on Northern Nigeria, on the agenda.
To this end, EFInA in conjunction with the Central Bank of Nigeria (CBN) and Dalberg, conducted a painstaking research into the state of affairs of the financial inclusion drive with special emphasis on women. The report entitled ''of Women's Financial Inclusion in Nigeria,'' was officially launched to the public at the conference.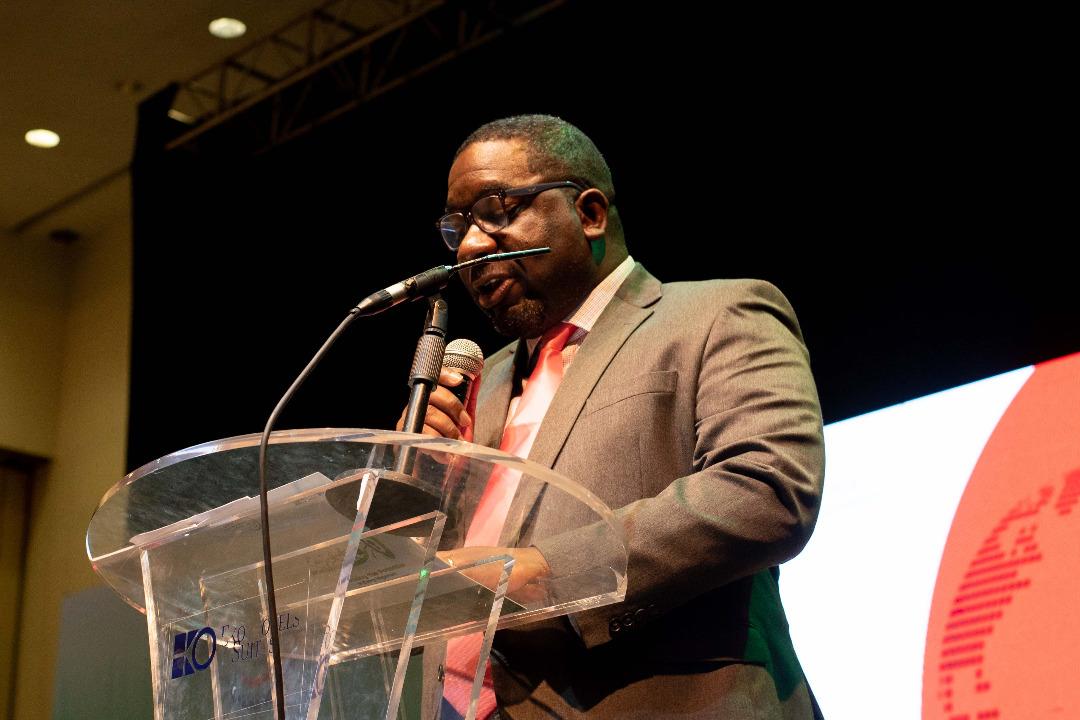 Segun Akerele, Board Chair, EFInA
During her presentation of key facts on the report, Head of Programmes, EFInA, Ashley Immanuel maintained that profound efforts must be made to tackle the subsisting problems in financial inclusion. Immanuel stated: ''Our research established that women are less likely than men to use financial services even when other variables are held equal, which informs us that there is an underlying gender factor contributing to the gender gap. Also, rural dwellers are less likely to use formal financial services while Northern women are likely to be excluded than her counterparts elsewhere.''
The lack of data might be a contributing factor to the gender gap problem inherent in the sector as limited information on the subject matter invariably precludes penetrative planning for businesses.
''When contacted, financial service providers allude at a lack of business case in serving excluded women. Hence, we identified three ways to expedite the financial inclusion agenda: address underlying challenges including gender gaps in inclusion and income, earn the trust of women and improve the business case for serving financially excluded women,'' she added.
Furthermore, the Deputy Governor of the Central Bank of Nigeria, Aishah Ahmad, in her keynote address titled ''Financial Inclusion as a Tool to Unlock Nigeria's Potential and Enable Economic Growth'' commended the contributions of EFInA and other partners in not only developing the report but their sustained efforts in ensuring the country achieves its 2020 Financial Inclusiongoal. Ahmad advised a holistic approach to deal with the problem, stating that the continent as a whole must pay more than a cursory look at the problem.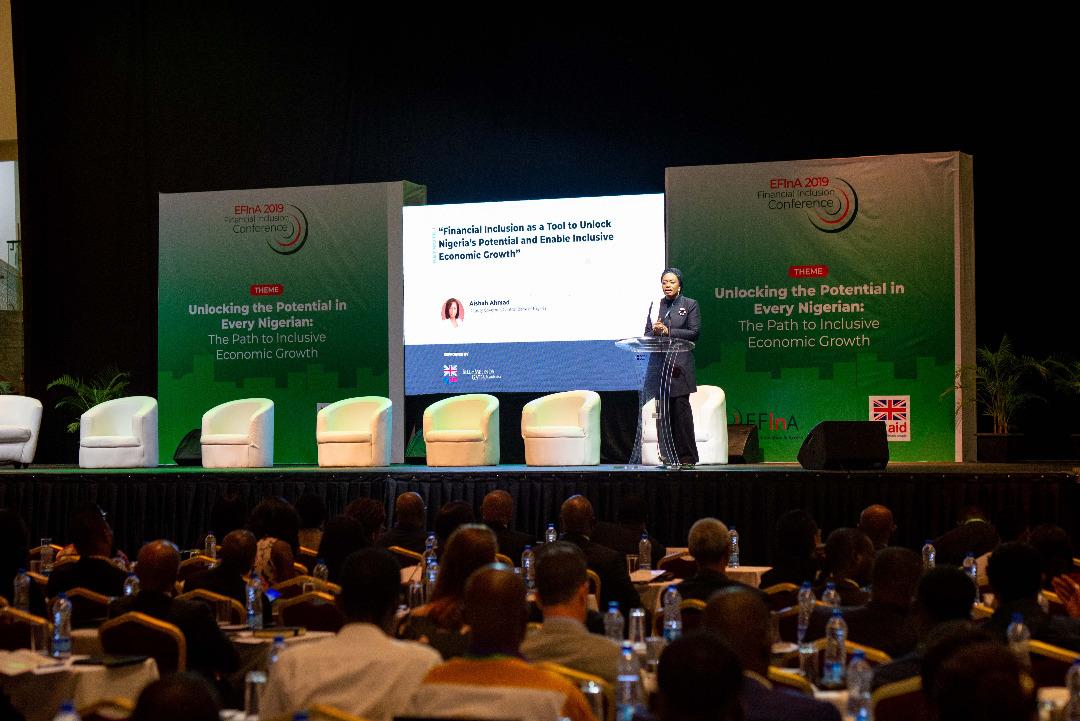 Aishah Ahmad, Dep Gov, CBN, giving her keynote
''There are a number of studies outlining the positive effect of promoting gender equity. A statistic maintains that global GDP will increase by as much as 35 percent of women's unpaid work were counted. Not only unpaid work at home but in the office as well. An International Monetary Fund (IMF) paper also speaks to additional labour which states that women come with additional productivity benefits because of their different thinking and views. In addition, a Mckinsey report holds that if progress towards parity is accelerated, Africa's economy can be boosted by 10%,'' she asserted.
''62.3% inclusion rate is commendable but of the excluded adults, 55.9% are women and it appears that the gender gap is rising. It is a worrying trend that underscores the need for greater efforts. The poor, in particular, must have access to the market, the resources and the economic opportunities that can enable them to earn an income and improve their livelihood. Promoting inclusive growth is important and a clear global priority, however, there is particular relevance for Africa. Because we are primarily resource-based hence prone to experiencing negative impacts of global commodity price shocks; we have large populations with clear gender gaps and non-inclusive growth In these circumstances, where we need to ramp up something that takes a lot of time, it is obvious that elevating the economic participation and contribution of all citizens including youth, women and all marginalized aspects of the society,'' she added
Setting the tone for what was to be a deeply insightful engagement Board Chair, EFInA, Segun Akerele, in his opening remark reiterated the importance of strengthened financial inclusion to the long term sustenance of the future thinking nations. According to Akerele "Financial inclusion is a key priority in the global reform agenda and a topic of interest for policymakers, regulators, market practitioners, and other stakeholders. The increased emphasis on financial inclusion reflects a growing realization of its transformative power to accelerate economic growth through poverty reduction, wealth creation, and improved welfare.
At its core, inclusive financial systems enable people at the bottom of the pyramid greater access to the sources to meet their financial needs such as saving for retirement, investing in education and capitalizing on business opportunities.''