STEVE DEDE
Jeffery Uzoma Fidelis was already an artist with little buzz before he left for South Africa in 2013. Since then, he has taken up filmmaking, launched a successful film and television company and done great things in South Africa.
Pulse recently had a chat with the filmmaker who spoke with great enthusiasm about his career and time in South Africa.
Film, television and entertainment were not the only subjects of conversation as the topic grew into how he has taken up the role of an ambassador of Nigeria in South Africa where the perception of Nigerians is at an all-time low.
The beginning
Born in Maiduguri Borno state and raised in Lagos, Fidelis took to entertainment very early in his life and had a little buzz in Lagos as a musician with the name LPEE. With some records to his name, he relocated to South Africa in 2013 to further his dream.
"There comes a time in a man's life when certain comfort in your life no longer appeases you," he told Pulse about why he decided to migrate to South Africa.
"You are not satisfied with just having just dreams, vision and ideas that you can't seem to bring to life.
"In Nigeria, I grew up in a middle-class family where we didn't have so much but we didn't lack a lot either. So that, instead of making me happy almost drove me crazy. I knew I needed somewhere that was going to drive me, that was going to make me hungry. I knew I needed to be in a space where I won't be able to call for help or have people around me that could have just helped me.
"I knew that I needed to activate the jungle hustle in me. And that is how I woke up one day and decided to travel."
Life in South Africa
To survive in South Africa, Fidelis had to learn the ropes of entertainment in the southern African country and started as a show promoter. In his first three months in South Africa, he managed to pull off one of the biggest events in his province and from then started doing partnerships with franchises, restaurants, lounges and clubs. As a Mass Communication graduate and his background in sales and marketing, Fidelis said he was quick to come up with structures to succeed in South Africa.
"As a Nigerian entertainer in South Africa, it's been quite a journey and a blessing at the same time. There were inevitably challenges along the way, but no matter the industry you are in, as long as you know that there is a market for whatever you are thinking of doing.
"There is a market in South Africa, and in Africa as a whole for events, filmmaking, and music. I started with events.
"My goal there was to attract a good number of people to go have fun at a spot and with that, I was able to make a living."
Filmmaking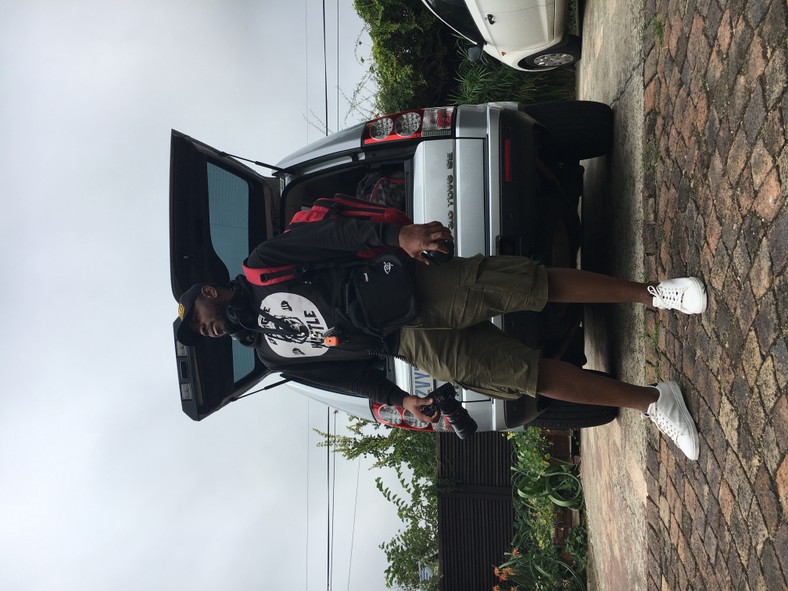 Jeffery Uzoma Fidelis has worked on several projects in South African film and TV (Instagram/Jeffery Uzoma Fidelis)Instagram
It was in South Africa that Fidelis embraced filmmaking after a few years of making music and organizing events. For him, filmmaking came natural and the transition wasn't a big deal.
"I started my music career in Nigeria and even here in South Africa, I have done a couple of records and music videos. But I didn't switch to filmmaking, filmmaking has always been a part of me," he said.
"Something in me that was calling. I've always had a keen interest in the narrative and telling stories in a visual way that would capture peoples' imagination and resonate with them.
"That came naturally to me. Some people learn through certain processes and schooling so if you have both it's a blessing.
"From a very young age, I had an idea of what a good film should look like. But music came easy to me and that's what I kicked off with initially. But coming to South Africa, the whole circumstance, the whole situation, opened my eyes to the possibilities.
"I paid more attention and had to stretch myself. I ended up also writing scripts for some filmmakers and a colleague just came up to me and said 'I see you write stuff for TV, but don't you see that you can just make a film, cause I see you are very good at scripting.'
"And that was the first inciting incident that led me to give it a try. I didn't leave music for filmmaking, I do both and they are both areas that I'm passionate about but one had to halt because the other one needed ultimate focus."
Telling stories
Fidelis has now gone on to become one of the most promising filmmakers in South Africa. With his fully-fledged production company, Jungle Hustle Productions producing ground-breaking film and television content.
There is 'Pain in Love' a critically acclaimed flick which shone light on women's abuse in South Africa. 'Driven', 'Pulane', 'Dangerous Affection,' and 'Lost Lovers' are some South African popular flicks that Fidelis has worked on.
On TV, Fidelis also has his hands on the award-winning talk show 'Life with Thami'. In events, he co-organized and was the Multicam director for the annual gospel concert 'Sacred Fest'.
"We have been able to develop and produce a couple of films in different genres, one-hour dramas for television, soap operas. I have been able to write, direct and edit some of my projects," he said.
"It has also been a blessing to have networks and broadcasters being able to commission or licence our projects. That's one thing that any indie filmmaker will appreciate and find it awesome that people see your work as worthy of commissioning or licensing.
"Beyond being a filmmaker, I see myself as a creative. I have been able to go into the development and execution of creative ideas, both in marketing and in events.
"It felt so good being able to partner with a lot of South Africa brands, in music and media. Last year we did a sold-out concert, to be able to conceptualize and package that idea with my partners from scratch, to having it come alive and having people coming together to a full house was great for me.
"I also do multi-camera directing for live broadcast events. I've also directed a couple of music videos, so it's beyond being a filmmaker for me.
"It's about coming up with original ideas, developing them from scratch, shooting and packaging them and also strategising and executing their marketing campaigns as they are being brought to life. That's why I wouldn't call myself only a director and filmmaker, but a creative.
While most of his projects are South Africa-driven and for their audience, what he has in the works are productions that we believe will have a deep resonance with the entire continent and the diaspora.
"I have just finished scripting a couple of projects that we intend to put on video on demand platforms and we are currently developing what we believe will be one of Africa's highest-grossing films ever," he said.
"In addition, we're developing other TV shows and original concepts. There's one specific passion project that also involves several South African media personalities
"I'm currently working on the second edition of our annual live concert event, but this time it's going to be a virtual event due to the COVID 19 restrictions. This pandemic is teaching us to adapt and embrace change at an accelerated rate. It forces us to seek new avenues and opportunities beyond the conventional.
An Ambassador
Jeffery Uzoma Fidelis says he's is using his works to change the narrative of Nigerians in South Africa (Instagram/Jeffery Uzoma Fidelis)Instagram
While Nigerians are blazing their trails all over the world, the small percentage of its citizens who engage in crime seems to always make the news. This has caused Nigerians, a long-running problem with how they are perceived all over the world.
In South Africa, it's even tougher for Nigerians who have been victims of xenophobia attacks in the past. This is why Fidelis has taken it upon himself to be an ambassador of Nigeria. Speaking through his works in South Africa to change the narrative around Nigerian immigrants.
"It's about the role I am playing to change the narrative," he said.
"It's not an overnight process. But the fact that since I have been in South Africa, I made up my mind, I have never been interested in criminal activities.
"Not that a whole lot of Nigerians are involved in these activities but quite a number of them have been found wanting in certain areas. Like internet fraud and drug trafficking, And the more these things continue, what it does is that it makes it difficult for you to be comfortable and meet someone and introduce yourself as a Nigerian because of the stereotypes that exist.
"I believe that the one way I can bring about change as I have continuously done is through my work.
"It's through these works, you develop relationships, in those relationships no matter the perception people come in with, they are left with no choice but to realize that you have to give people a chance to show you who they are and that stereotyping people or even an entire nation denies you of that.
"I have a South African crew and actors who were very skeptical when we first started. But, now, several years later, many of them are still working with me and form part of my core teams"
To continue his works in that sphere, Fidelis is in the process of setting up an organization of Nigerians in South Africa that will help give an alternative voice and view to the prevalent perception of Nigerians.
"We might not be able to change it all because the system in Nigeria has led to some Nigerian youth choosing crime as a source of living. But you just have to play your role because there are also a lot of people we met here that showed us that it was possible.
"People like Akin Omotoso and Adze Ugah and other Nigerian creatives that have been here long before we came. But when you look at those guys, what it says to you is that it's possible. Everybody is not going to get the opportunity to do it but you can do it if you put your mind to it."
"I believe through my works as a filmmaker, an entertainer and community builder here as well as being an inspiration to a number of young South Africans, I will be able to change the perceptions of Nigerians in South Africa. That means a lot to me. My work, my work ethic, my achievements and my character must speak for me and us."
Source: Pulse Nigeria#JEFFERY UZOMA FIDELIS