By Shoshi Parks
At the African-American Shakespeare Company (AASC), Julius Caesar isn't a Roman dictator, he's a West African warlord. A Midsummer Night's Dream doesn't take place in the forested fairylands outside Athens but amid a raucous Carnaval celebration in the West Indies. And Cinderella? She's not a down-on-her-luck white woman but an extraordinary Black one, who finds not just her prince at the end of the fairytale, but her voice, too.
Twenty-five years ago, these types of productions—classic plays reframed in ways that spoke to the Black community and their experiences—simply didn't exist. Although the theater industry was slowly beginning to grapple with issues of diversity on stage, the classics were too opaque, too elitist, too emotionally and experientially distant to draw many Black people to their productions. "I would call myself the only chocolate chip in the audience," laughs Sherri Young.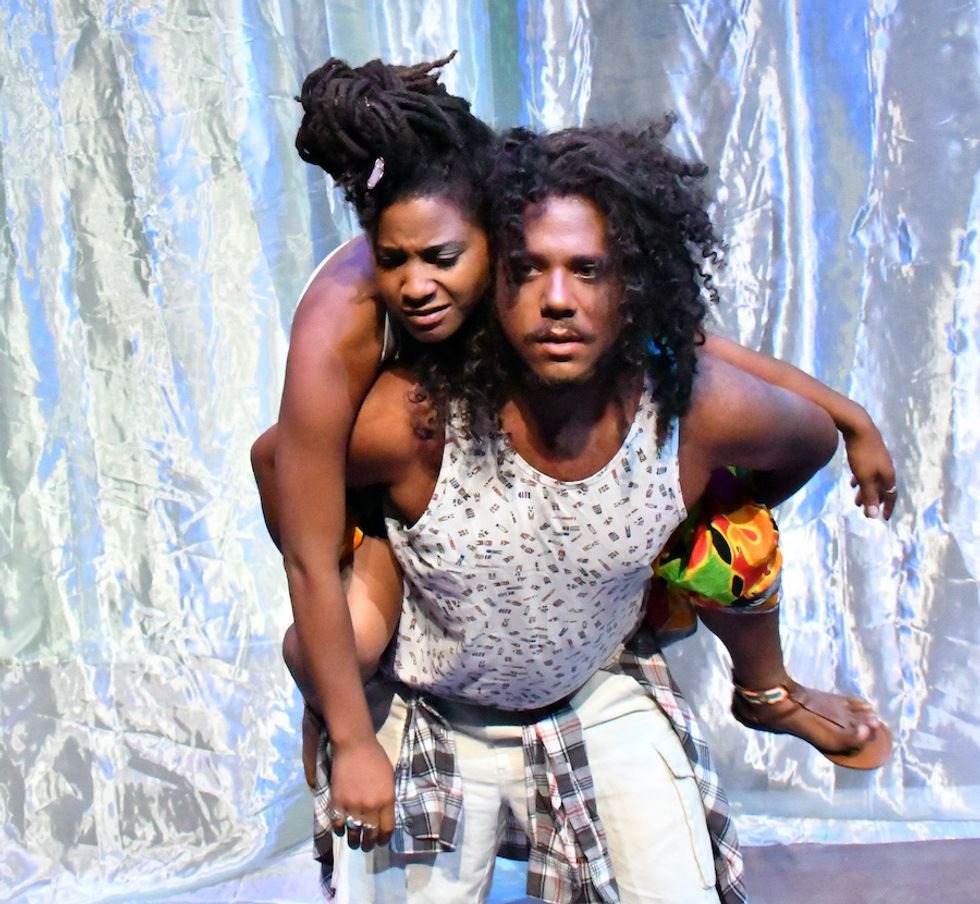 In African-American Shakespeare Company's production of 'A Midsummer Night's Dream,' Hermia and Lysander are portrayed by Black actors Antonette Bracks and Ryan Marchand.(Jay Yamada)
Young, who founded the African-American Shakespeare Company in 1994 and has served as its executive director ever since, understood the disconnect. She felt the same way once, too. "I had a hate-love experience with Shakespeare," she explains. "Hate came first."
Like many people, Young first encountered the Bard during her freshman year of high school, through the tale of Romeo and Juliet. And like many teens, she found reading the play painful, an experience guided by an unskilled teacher who focused on the play's objective facts, not its powerful emotions.
Even years later, after she had become a professional actor—Young trained at San Francisco's American Conservatory Theater (A.C.T.)—she still had her doubts about the classics.
"Everyone would say 'oh Shakespeare's wonderful and Shakespeare's this and Shakespeare's that' and 'only the well-trained actors could ever do it, you can't do it because you're not really well trained,'" she remembers. "I hated that because it kind of negated in my mind that, well, does that mean if you [don't do Shakespeare] that you're not a well-trained actor?"
After she graduated from A.C.T., Young's perspective began to shift. As an actress, she had been made to feel that she didn't have the chops to perform Shakespeare, but instead of internalizing the critique, she turned the narrative on its head. She would break Shakespeare and the Greek classics out of a prison of fuddy-duddy elite expectations and re-frame them through the cultural competency of the Black community. The productions put on by her company wouldn't just pay lip service to diversity, they would move the needle to build greater equity in the theater.
Young mounted her first Shakespeare production with just a credit card, a 60-seat theater, and a little help from fellow A.C.T. actors in 1994. The sold-out two-night showcase was well received but it didn't generate the kind of funding that AASC needed to really get off the ground. It would be another decade before Young could quit her job in finance to run the company full time. In 2009, she was able to hire the acclaimed actor L. Peter Callender as artistic director and AASC came into full bloom, drawing new, diverse audiences to classic theater and providing opportunities for actors of color to hone their skills with the works of cherished classical and American playwrights.
"If you really want diversity, you've got to change the cultural perception of who's telling the story, and who's in it, and where the locations are, and what kind of music are you listening to, and what kind of costumes are you wearing, and whose icons are you looking at, and what character parallels images from my community," says Young.
It's how Julius Cesar ended up being set in West Africa and A Midsummer Night's Dream in the West Indies. "We find ways to parallel the different communities of the African Diaspora," she explains.
After 25 years of productions, the space AASC has carved out within the theater world has been embraced by diverse members of the Black community. "Our audience, they feel very powerful for just being part of our theater company," says Young. "They're really just in awe that we've dared to do something and be in a space that we weren't really supposed to be in originally. We're showing up in plays that we normally haven't been invited to, and we're showing up in a way where we're unapologetic."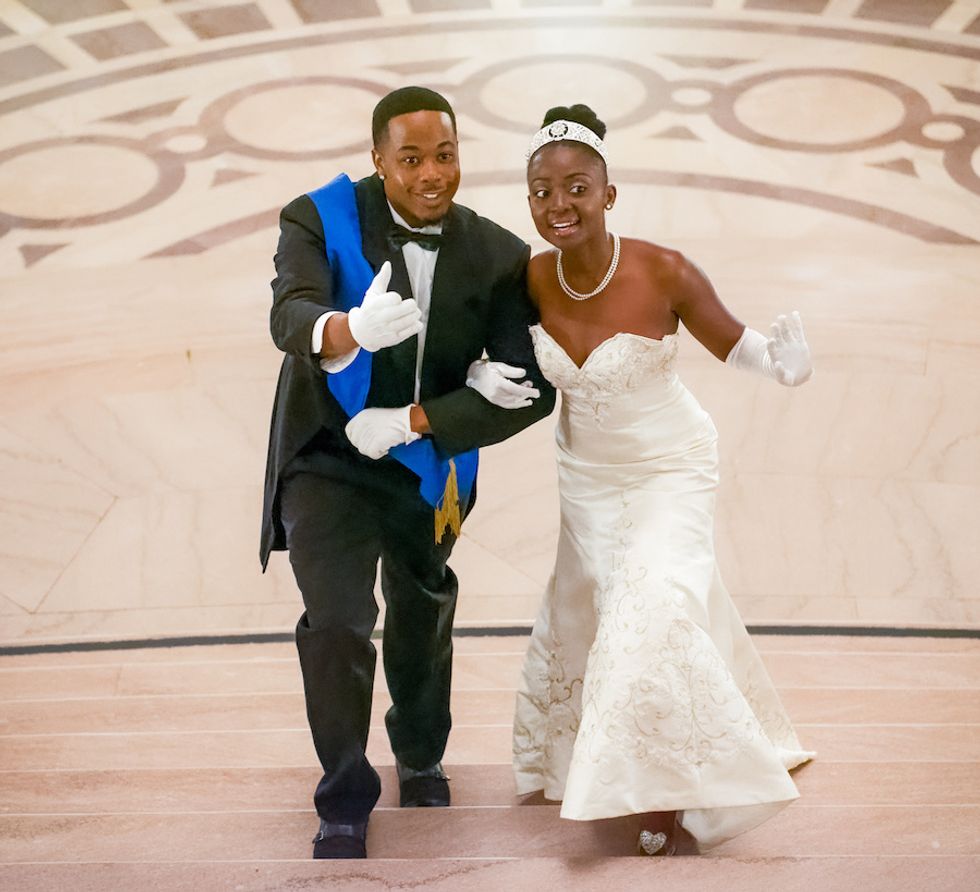 Actors Devin Cunningham as Prince Charming and Funmi Lola in the title role of AASC's 'Cinderella'.(Lance Huntley)
While the AASC continues to put on Shakespearean and Greek classics annually, in recent years they have expanded their focus to also include American classics like Tennessee Williams' A Streetcar Named Desire and Lorraine Hansberry's A Raisin in the Sun. Fairy tales also show up on the AASC stage. Every holiday season since 2015, Young has directed the company's popular production of Cinderella.
"A lot of Black girls are ignored, not elevated, and watching Disney movies you just didn't see us. So I wanted to do a show that spoke to the positivity of young Black girls. Cinderella is a favorite because there aren't a lot of family shows for Black youth to see," says Young.
The AASC is empowering off stage, too, with drama workshops oriented towards Black youth. Showing up consistently with programs that are embedded in the community is one way the company is working to build equity both on the stage and behind the scenes. While workshops are on hiatus due to COVID-19, Young continues to look for ways to keep youth engaged at home while simultaneously supporting artists who are temporarily on out of work, offering those they work with the opportunity to develop activities for youth to do at home or in a classroom setting.
As for the company's performances, those are on hiatus too, at least for now. In the meantime, Young and her team are moving to an online platform, putting together a documentary to celebrate their 25th anniversary, and planning for the 2021-2022 season, which will include The Complete Works of William Shakespeare and Tennessee Williams' Glass Menagerie. In commemoration of Juneteenth, AASC released a video of artistic director Peter Callender interviewing Selma actor Colman Domingo and, soon, they'll also be offering a new play-reading program featuring contemporary playwrights and works on-demand.
"With every thorn there are roses and I think that there are going to be more opportunities for artists to have space to create," says Young. "So I'm looking forward to seeing where we're going down the road as a community, a society and an industry."